A suite of online tools for planners and practitioners
NJADAPT is a suite of online tools designed to provide data to planners, decision-makers, practitioners, and others addressing climate change in New Jersey. Presently, NJADAPT contains three tools – NJ FloodMapper, Municipal Snapshots, and NJ Forest Adapt.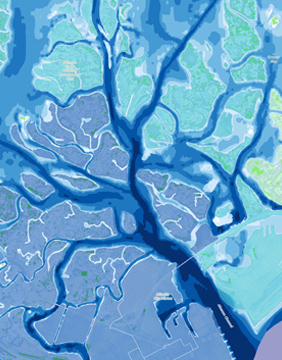 Flood exposure mapping tool
NJ FloodMapper is an interactive mapping tool that allows users to conduct flood exposure analysis based on the best available science for sea-level rise and numerous other parameters, including total water levels, hurricane surge, FEMA flood zones, and Hurricane Sandy surge. Additional map layers depict infrastructure, environmental hazards, marsh and open space, social vulnerability, flood insurance payments for property loss, and land use.
Climate risks summarized by municipality
Adapting to climate change requires an understanding of potential hazards and exposure. These Municipal Snapshots provide easy access to information about the people, places, and assets that are at risk from climate impacts in each of New Jersey's municipalities. Snapshots include reports on built infrastructure, critical assets, natural and working lands, public health, and vulnerable populations.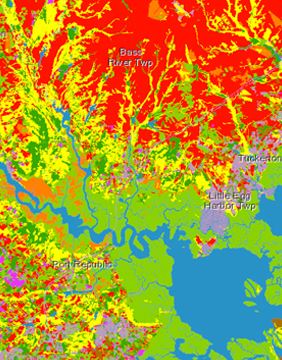 This mapping tool enables users to visualize data over multiple timelines and climate change scenarios. Users can explore changes in plant hardiness and heat zones, species distribution, daily minimum and maximum temperatures, heating and cooling degree days, and precipitation. Additional map layers include forest carbon density, canopy cover, impervious surfaces, forest types, pest and disease, wildfire fuel hazard, and more.