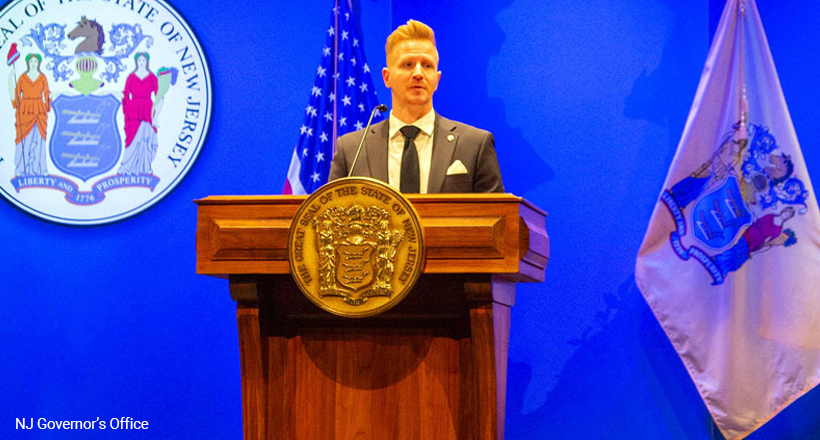 Opinion: Taking Strategic Action to Fight Climate Change
TOM GILBERT / NJ CONSERVATION FOUNDATION — Every passing week, it seems, brings a new reminder of the many ways our climate is changing, and not for the better. Most recently it was a storm fed by tropical moisture that deluged New York City with two months' worth of rain in 24 hours, causing severe flooding. In other places, it has been record-breaking heat, drought and wildfires.
Human reliance on fossil fuels is altering the world as we know it. Reliance on gasoline, natural gas and oil produces carbon dioxide, methane and other greenhouse gases that trap the sun's heat in the atmosphere. This warming leads to more extreme weather events, as well as sea-level rise.
As a coastal state with shorelines on the Atlantic Ocean and Delaware Bay, New Jersey is especially vulnerable to the impacts of climate change.
To help the state address current climate threats and prevent worsening impacts in the future, the New Jersey Department of Environmental Protection (DEP) just released a draft Strategic Climate Action Plan. The plan lists a multitude of actions that can be taken, or are already being taken.
"New Jersey is at a critical juncture in responding to the effects of climate change, which pose the greatest long-term threat to our health, safety, environment and economy," said DEP Commissioner Shawn LaTourette. "The Murphy Administration has already taken bold and crucial steps to mitigate the impacts of increasingly severe storms, rising sea levels, flooding and extreme heat through regulatory and legislative means, and we cannot let up in confronting these issues."
The proposed plan will guide policies and actions in several key areas:
Reducing climate pollutant emissions – The first step in slowing climate change is to reduce emissions. New Jersey is aiming for a 50% cut in greenhouse gas emissions by 2030 and 80% by 2050. To achieve these targets, the DEP is focusing on the two main sources of greenhouse gas emissions – buildings and motor vehicles. The state will continue to pursue renewable energy from solar and offshore wind projects. It will promote electrification of buildings and facilities from non-fossil sources, advance zero-emission electric vehicle initiatives, and pursue reforms leading to greater energy efficiency and emissions reductions in power plants and industrial facilities.
Building climate resilience – To protect lives and property against climate impacts, the state must prepare for more intense storms and weather extremes. The action plan reflects current initiatives to enhance resilience and identifies new protective actions. These include improving beach and dune protection; developing a statewide extreme heat mitigation initiative, including planting more urban trees; improving stormwater and wastewater infrastructure; and investing in coastal and flood infrastructure projects. Also included is expanding the Blue Acres buyout program for flood-prone properties.
Securing and protecting natural and working lands – Natural lands are among our greatest allies in fighting climate change. Forests, wetlands, and agricultural lands act as carbon sinks by removing carbon dioxide from the atmosphere and storing it in vegetation and soils. The action plan calls for the DEP to further protect and enhance these types of lands as part of the state's Natural and Working Lands Strategy.
Ensuring climate equity and justice – The action plan supports ongoing efforts to provide environmental justice for New Jersey's communities of color and lower-income communities. These groups experience disproportionately high amounts of air and climate pollution, as well as higher risks for flooding and extreme heat.
The DEP should be applauded for its commitment to creating a broad-ranging plan to guide the state's response to our changing climate. It is especially heartening to see the high value placed on protecting and stewarding New Jersey's natural lands.
However, the recommendations related to forests are missing two important points: the need to reduce the deer population to sustainable levels so that our forests will regenerate and continue to store large amounts of carbon into the future; and the importance of letting intact middle-aged forests continue to mature into old-growth to store large amounts of carbon.
A new study by Dr. Jay Kelly and Jessica Ray of Raritan Valley Community College sheds important light on the value of protecting intact forests. Kelly and Ray studied forests growing on former farmland in northern New Jersey, and compared them to forests growing on lands that had never been disturbed by agriculture.
The study found that forests growing on land never cleared for agriculture are storing twice as much carbon in the soil as forests that were once cleared to become farmland. These "primary" forests are among those that should be designated as protected carbon reserves.
The Forest Stewardship Task Force convened by State Senator Bob Smith called for reducing the deer population and establishing carbon reserves, among the comprehensive set of recommendations they developed to better protect and manage New Jersey's public forestlands.
A changing climate may be our "new normal," but it's possible to take bold action on many fronts to protect lives and property, and to prevent even more severe impacts in the future.
To read the Strategic Climate Action Plan, go to https://dep.nj.gov/strategic-climate-action-plan/. The DEP is accepting public comments on the plan through Oct. 18. Even though the plan is robust, it can still be strengthened! To comment, go to https://dep.nj.gov/strategic-climate-action-plan/comment/.
To read the Kelly-Ray study on forests, go to www.sciencedirect.com/science/article/pii/S0378112723006618.
Tom Gilbert is Co-Executive Director of the New Jersey Conservation Foundation.