Opportunities for Public Participation in Offshore Wind Planning in New Jersey
Wind turbines are coming to the waters off New Jersey's coast. In 2019, Gov. Phil Murphy set a goal for New Jersey of 7,500 megawatts of offshore wind energy generation by the year 2035.
But how are wind energy projects actually built? Which government bodies are responsible for oversight? What is the role of private companies? And how can the public participate in decision-making?
This guide provides New Jersey residents with background information on the offshore wind energy sector; outlines the process of identifying, leasing, and developing areas for offshore wind; and details how local governments and members of the public can get involved at each step in the decision-making process.
The report was commissioned by the NJ Climate Change Alliance  with support from the Energy Foundation.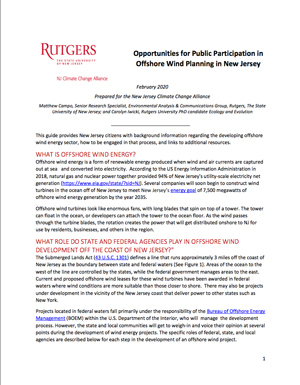 Opportunities for Public Participation in Offshore Wind Planning in New Jersey​
New Jersey Climate Change Alliance
February 2020